Small problem hopefully will be an easy fix.
Driving home about 2 weeks ago, about 1/2 a mile from my house the revs died off and the car cut out I managed to get it started again and limped it home. When I got on the drive I left the car running and I could smell fuel really strongly so lifted the bonnet and found fuel leaking from the mechanical fuel pump from this hole.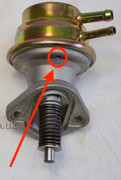 At this point I stoped the car removed the pump, I ordered a replacement pump and filter and when it arrived I fitted them. I turned the car over a few time and it fired up straight away. I left the car running for around 5 mins and it cut out. When I looked inside the carb it had flooded.
Fitted with a WEBER 32/34 DMTL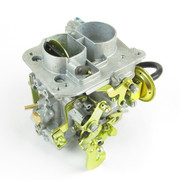 I left it over night to dry out, I assumed (this where I think I went wrong
) that with the old pump on its way out and failing, so the new pump was more powerful and flooding the carb so I adjusted the float then it failed to start I removed the fuel line from the carb and the pump was now not drawing fuel.
I purchased another pump and fitted it, this is pumping the fuel however this is not going into the carb. I have stripped the carb and checked for blocked jets but still no joy. I think I have F**ked something up, when messing around with the float but then again im not really sure it really has me puzzled.
Please can someone help me out. If you need more info or pictures please let me know.
Thanks in advance.
Karl.