The Golf Hit was a limited/special edition.
Available in four colours,
Alpine White
Torndao Red
Black
Atlas Grey
The interior was a charcoal grey check similar to the later GTI pattern.
It had the 4 button GTI style steering wheel and a rev counter but other than that the general appearance was very base spec.
13" steel wheels, with 175/70 13 tyres.
Engines were the 1.3, 1.6 and 1.8. The 1.3 and 1.6 had a 4 speed gearbox the 1.8 benefited from the 4+e
Auto gearbox was available in the 1.6 and 1.8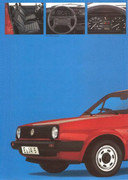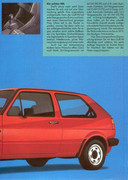 1986