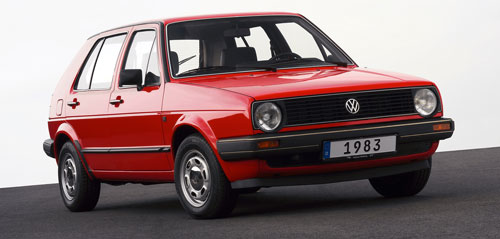 So your thinking of buying a Mk2 Golf or Jetta? Although we might be slightly biased, can we point out that your making a fine choice!

A good Mk2 can still be bought for around the £1,000 mark but that said, there are plenty of bad out ones there so it will pay to look around to help you make the best possible choice. The Mk2 makes a great modern classic, it can be used for track days or as a daily driver and with plenty of MoT'd examples out there, a good one won't break the bank.
If you haven't driven a Mk2 before you could find it more familiar than you might think. Despite some pushing the 30 mark, they still carry fantastic build and ride quality for their time. The precise steering, firm seating and solid feel on the road should also impress. Be aware though that many of the early Mk2s did not come with power steering and as such, this might limit your choices if you do a lot of town driving.
When it comes to choices there are a range of engines: 1.3, 1.6, 1.8 and GTI. If your looking towards a GTi there are two different options, 8v and 16v. The 8v will offer 112 bhp and tends to have more low end grunt and a more relaxed drive were as the 16v gives an extra 27bhp for more go and tends to be more 'rev happy'. The decision between them is down to you, getting a drive in both might help.
When it comes down to parts and restoration, many are still available from either third party suppliers, breakers and clubs or VW Classic Parts in Germany. Many of the jobs on the Mk2 can be carried out with in the driveway as the Mk2 is very DIY friendly, the worse part will be rusted or stuck bolts! when it comes to servicing and maintenance costs are low allowing even the tightest of budgets to run a Mk2.
So were can I buy one?
There are a few different places that can be source of a good Mk2. Ebay can be great place to browse and buy as can clubs such as ourselves and forums. When it comes to choosing a car you should decide wether you a restored car, an ongoing project or some totally original to make your own. Each has their own pitfalls and potential problems with pound signs attached to boot. The bigger the history folder with the car the better, its nice to know not only whats been done but also what still needs doing as this could effect your choice. It also worth noting that the quality of the workmanship also needs taken into account. If its had paintwork matched by Stevie Wonder's guide dog or the floor made from old road signs then its going to need putting right and it could be expensive. On the other side though if your looking at a meticulously restored Mk2 or VR6 engine swap then you could save a fortune compared to the initial cost spent by the last owner. This is were that trusty history folder full of  old invoices comes in handy!
Economy
Generally not the reason you decide to buy what is considered a classic car, however, with the rising cost of petrol its worth mentioning. A well tuned Mk2 should see anywhere between 30 and 40 mpg in a mix of urban and extra urban, depending on the model. I've even managed to get my own 8v GTI up to the high 40s on a good run.
What to look for

Engines

No matter which engine your looking at; 1.1, 1.3, 1.6 or 1.8 – all Mk2 engines should prove to have a long life span if they have been looked after and serviced on a regular basis. Look out for clouds of blue smoke on start up. This is bad. It could mean worn out valve guides or a failed valve stem oil seal. These in turn could mean a cylinder head rebuild is on the cards which won't be cheap. 
Whilst the engine idles you shouldn't notice any misfires or the engine being erratic. If you do then you might need new HT leads or the factory fitted Pierburg carb (if a non GTI). These can be repaired or replaced with a Weber manual choke but these arent cheap to buy new at around £300. This gives you ammunition for haggling though.
If your seeing running issues on a GTI (GTI 8v to 1988, 16v to 1992) then it could be down to the K-Jet injection box which can be hard to get new, or it could be a vacuum leak which will be a simple fix when you find were it is. If the K-Jet feels sluggish to drive then it could be down to the metering head or the flap inside the air box has seized and just needs freeing up. This can all be used during the negotiation. If you happen to be lucky enough to have found a G60 supercharged Mk2 then bare in ind that the G-Lader supercharger can be delicate so make sure that its had all the required maintenance and has the receipts to prove. It needs to have had its overhaul within the last 10 to 20k.
When it comes to diesels, Mk2s are hard wearing, easy on fuel and very reliable. The one to buy is the 70bhp turbo, if you can find one. The non turbo 54bhp version can be slow but very reliable if looked after. The most sought after of all the diesels is the GTD boasting 80bhp due to an intercooler.
In the land of gearboxes, the five speed 020 rod change boxes are good but watch for the loss of second and diff pins which can decide to leave via the side of the gearbox when you don't expect it! Some of the earlier Mk2s use a four speed box and although they will accelerate well, they will have little top end and long motorway drives may result in hearing loss as it can be rather loud.
Running Gear
The renowned VW build quality comes into play here and the running gear fitted to the Mk2 is strong with a long life span. At this point check that history folder again for receipts proving clutch changes, new exhausts and brakes have all been replaced recently. The best one to go for, generally speaking, is the original untouched one. Be wary of the one thats been 'slammed' on cheap coilovers and had a huge exhaust fitted. If you get one like this though and its not what you want then its not hard to lift out the unwanted parts and return it to OEM or replace with better quality parts.
Bodywork
This can be the expensive part and although the Mk2 was better at keeping out the rot and rust than the Mk1, the youngest Mk2 is 22 years old. Don't make the mistake of ignoring the prospect of rust as what looks like a clean car on top could be a rot box underneath. The usual places for rot are the sills, arches, bottoms of doors, rear valance, the boot lid, the seam were the floor pan meets the sill and any metal work around the sunroof. The bottom of the bulkhead and the front suspension subframe can also hold water and are known as potential trouble spots so make sure and get around the Mk2 with a torch to get a good look. Make sure to check the footwells for water which could indicate worn out door sealsor membranes, an easy fix, but if the top of teh footwell is wet be aware. feel up around the top of the carpet and 'get all up in that'. If its wet then be aware that thebulkhead may have rotted away at bottom of the windscreen. This can be a costly repair as the old panel will need cut out, replaced and painted.
So what's it really worth?
The age old saying of 'its worth as much as someone is willing to pay' might apply some what but so stop you paying over the odds we've put together some pointers. The Mk2 hasn't reached the same level of desirability as the earlier Mk1, but prices are starting to rise sharply. Starting with the GTI range, the 16v commands the highest price when compared with the 8v. Expect to pay around the £1,500 mark at the lower end and right up to £3/4k for an absolutely immaculate example with full history with the 8v coming in at slightly less. The very last GTIs with the rainbow interior, all round electrics and central locking might go for a little more, especially if its Oak Green or Bright Blue Metallic.

As for the non GTIs, they are becoming more and more desirable, in particular, the earlier small bumper models with three door models being more desirable over the five door models. In the non GTI, carburettor band, the Driver would be a good model to look for. These can be found in very good condition for under £2,000. You can find others that have had engine swaps carried out but this were you need to get that history folder out and check everything been done properly. 
A little history behind the icon

1984 – Bright colours, perms, synthesisers were all the rage and VW decide to release the replacement for the Mk1 Golf in the UK one decade after its release. Original plans for the Mk2 date back to 1979 but due to a number of issues during the design and manufacture phase, the Mk2 was held back. The new Golf was designed in house, rather than by Italian designer Giugiaro like the original. The link between the two cars, or one them anyway, was the huge 'C' pillar which was one of the original cars biggest criticisms due to the blind spot. 
1986 – After two years the GTI was beefed up with the introduction of the 16v giving an extra 27bhp. 
1987 – The facelift! The Mk2 got its first make over and lost some slats from its grill. The K-Jet engine was also replaced with Digifant in the 8v GTI, meaning the mechanical injection was replaced with a fully electronic system.
1989 – Another change in appearance. The small bumpers were dropped in favour of big bumpers and the rub strips on the side were skinnied down on the GTI range. Small bumpers remained on non GTI models. There were also two more models released; the motorsport thoroughbred four wheel drive  (LHD only) supercharged Rallye with only 5,000 models being built and the supercharged G60. 
1991 – A sad day at VW. The production of the Mk2 Golf came to a close. It was replaced with the heavier Mk3. There are some Mk2 Golfs kicking about on 1992 and 1993 plates though.
Need more convincing? Come onto the main forum and get chatting, there are always plenty of folk to give out helpful advice and pointers.