Well this was the first appearance of the Mk2 Golf Owners Club at Dubshed, which in itself is onto its fifth year and still hosted and run by GTINI. As per usual, the calibre of cars at Dubshed ranged from unique to exquisite to anywhere in between and in any combination of the two, but with this being a Mk2 Golf Owners Club I only really focused on those!
The Official Club Stand!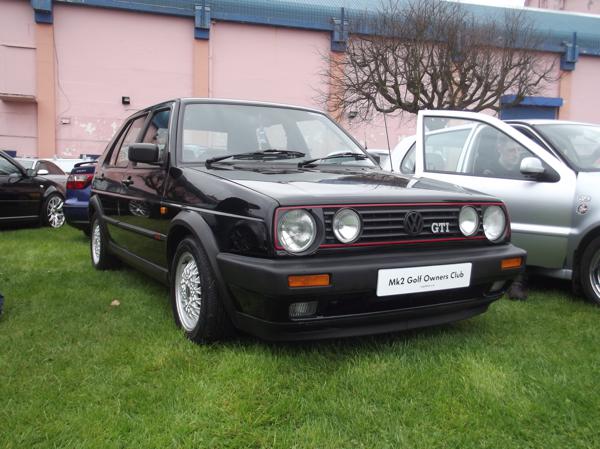 Our club stand was pretty weak, consisting of my own Golf GTI 8v and a 2001 6n2 Polo 1.4 8v, so a wee day out for the 8v's I guess. The day started as per usual with an early morning and a run into Belfast to meet a mate in his Mk5 R32, then a short blast down the Westlink and into the Kings Hall Complex. After getting parked up and the obligatory clean due to the previous mights rain, it was then a matter of getting a nosey round and chilling out. The day itself, as with previous, was pretty relaxed and with so much to see a few laps were needed just to take it all in.
As the day went on the Northern Ireland Fire & Rescue Service  did their usual 'cut a car to bits' routine followed closely by 'Scrap a Jap'. By this stage the sun had come out. Theres something about Dubshed, if you ever want to run a show book it the same dates as Dubshed as it hasn't rained on Dubshed Sunday in the 5 years its been going. The weather channel loves Volkswagens it seems!
With that, we've added most of the Mk2 Golf and Jettas we saw at Dubshed, forgive the poor photos, I'm definitely no photographer!