I'm bobby, 32 years of age and live in the Isle of Man.
I bought this car in January 2005 after about 18 months of searching on the continent. Always fancied an Edition One as a friend had owned a G60 a few years previous and I was pretty impressed with it, so after owning many 8v and 16v models previously I decided I wanted to buy a G60 and as time went buy I came to the conclusion travelling to the continent to buy one made more sense than buying an already imported UK car for two reasons, I already had a number I friends who live in Germany who could help me with the search/language issues/changeover issues and secondly 10 years ago they were much more affordable in Germany so I could get a better condition higher spec car for the same or probably less than in the UK! Made sense! So after a long time searching (and missing out on a few potential cars!) I came across this edition one, got a friend to call the guy to get some info on the car and to let him know someone he knew from UK was interested in it, so after I spoke to him he arranged to take the car off the net and hang onto it for me for one month until I had flights/holidays off work etc arranged (which was very good of him).
So a short time later I was heading to Bavaria on a train from North Germany after picking up a mate of mine to help me with the documentation, to my surprise there was a g60 fire and ice waiting at the train station for me, I was a bit puzzled at first as that wasn't the car I came to buy, but was put right the next minute as the guy said that one was his everyday g60…..not bad! I remember thinking if the edition one is anywhere near the condition of the f&i Ghent I was gonna take it on the spot! So we arrived at his parents place, they were wine farmers and kept the car for him in the basement of their house alongside their grape tractor, he pulled the covers off it and it was sold to me immediately, the long wait had really paid off after I connected the battery up and drove it out onto the street. The guy was a proper g60 enthusiast, he loved this car but his (new) wife was putting pressure on him to put a deposit down on a house and as he'd only owned it for 5 years he reluctantly had to let it go! This particular one was pretty well specced up from new too with factory air-con, electric windows and electric mirrors. It also has abs from the factory. A few things making the Edition One stand out from the other G60's out there on this particular car are;
Mauritius blue electrical height adjustable Recaro front seats and matching rear seat
Matching blue carpet/shelf and shelf supports
6.5x15in bbs rm 2pc wheels(but now have been swapped for rs 001 8x15in)
Dark burgandy pearl paint(Aubergine)
Siglachrom rear glass in rear quarters and tailgate
It was completely original when I picked the car up, even down to the original 2x half keys with the torch inside, the original Gamma radio and the first aid kit on the boot. Nothing had been changed on this car and was in near immaculate condition! So that was over 9 years ago when I bought it, I soon after set to modifying it but only in a way that wouldn't ruin the exterior or interior of the car, just some chassis/suspension mods to stiffen it up a bit.
I started with a set of powerflex urethane bushes and Koni adj coilovers (set to a ride height that u could still live with!) and a new set of orig Vw g60 top mounts. This little lot made a massive difference and kept it like that for a long while just loving it. Then,one day the engine went pop just under a year of ownership. There was loads of smoke and I was a bit devastated,I striped the motor and found a huge hole down the side of one of the pistons. So things started to go a bit crazy after this point,I just went all out and emptied my bank account on the engine. I had some forged 1.9 pistons shipped over from Bahn Brenner in the states and another shopping list of parts sent from Germany including Schrick camshaft, pulley, chip and a few other bits. So I set to and started building the engine, ported and polished the cylinder head and had the bottom end sent off to be lightened and balanced while I was stripped. Fitted an oil cooler to it too after the rebuild as the oil on a g60 gets very hot after a bit of abuse. So with the motor back in and a running in period of about a month I took it to jabba sport for final setting up and was pleased to see 202bhp afterwards on their rolling road, and after they made a few tiny adjustments, when I left their premises the car went like a different car altogether, it was great.
So the car stayed that way for a few years as I had no issues with it, enjoyed taking it away on holiday, once down through Spain and France for 6 weeks in it in 2006, and a couple of trips to the Nurburgring in the same year and the following year where the car behaved impeccably.
Basically that's how the car has grown to be where it is, in the past few years I've made a few more mods with a jabba s4 charger, tezet tubular manifold, aftermarket ARB's and some other bits and bobs here and there and 2yrs ago I had some paintwork done as the car had picked up many stone chips on the front end over the years. I'd like to think its pretty much where I want it I be at the minute but as with old car modifying,it's never finished. I'm just enjoying it a bit more these days and attending as many VW events on the mainland as I can. I just wish I could use it a bit more sometimes but during the winter months and the rainy days it's nestled up in my garage as I plan to hang onto it and keep it as good as I can for as long as possible, but it's great the attention it gets when I take it out. Quite often get older people coming up to me asking about it which I usually get a reply of 'I had one of those when they were new'. Always good to hear!
Oh well, hope the introduction to the car didn't bore you too much, thanks for reading!
You can read the full build thread for the car here
This was how it looked when i got it…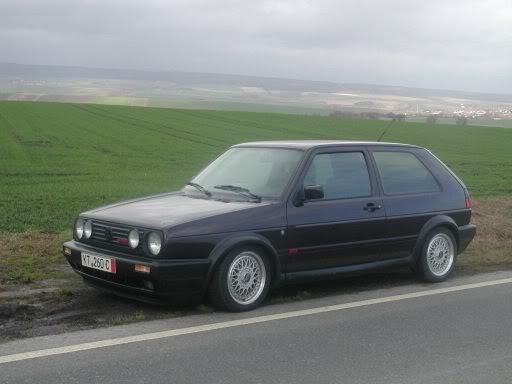 …and how it sits now…